Long sleeve shirts for men with multiple sleeve lengths.
Probably you may not have realised that you can find a better fitting shirt. Taking note of what sleeve length you really need could lead to the perfect fit. Consider that long sleeve shirts for men are the most worn item for of menswear clothing categories.
There are two brands in the Australian market that have ready-made shirts in a variety of different sleeve lengths. In addition, there is a mid-price range of shirts from Van Heusen. Also an upper price range eg $99.95 and above from Ganton. It is possible to find other brands that make more than one sleeve length per collar size.  You will have to wait some time for them to be made to order.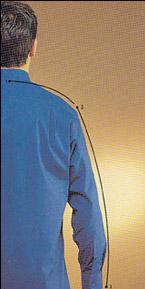 How to measure your sleeve length.
Ok, find yourself a tape measure and let's read it in centimetres. Shirts in Australia have their size featured in centimetres. Start in the middle of the back of the neck, by the way, you will need two people for this. Then continue across the shoulder and down a relaxed arm, not stiff and straight and finish up at the wrist where you would like your sleeve to ideally come to.
Let us say your sleeve length by your reckoning is 88cm. Finally, you will need to consult the Van Heusen and Ganton mens shirt size chart to find your closest collar and sleeve length.
Buying a ready-made multiple sleeve length shirt.
This is the best part, at Business Shirts Plus we have a dedicated page for long sleeve shirts for men who need that longer or shorter sleeve length. Furthermore establishing that you have a standard sleeve length for your collar allows you to browse through all are long sleeve shirts
In conclusion, any purchase you make will be FREE Delivery within Australia and you can Save up to 25% off the recommended retail price. See the full range here: Mens Business Shirts