Choosing the right business shirt is essential to emphasis your unique qualities. We work 5-6 days a week and these days plays a very pivotal role in defining our personality but a wrong wardrobe selection can spoil the whole personality image.
Do not fear for picking the right shirt that shows off your charming personality, just you should know where to start and here's presenting quick tips on picking the best dress shirt.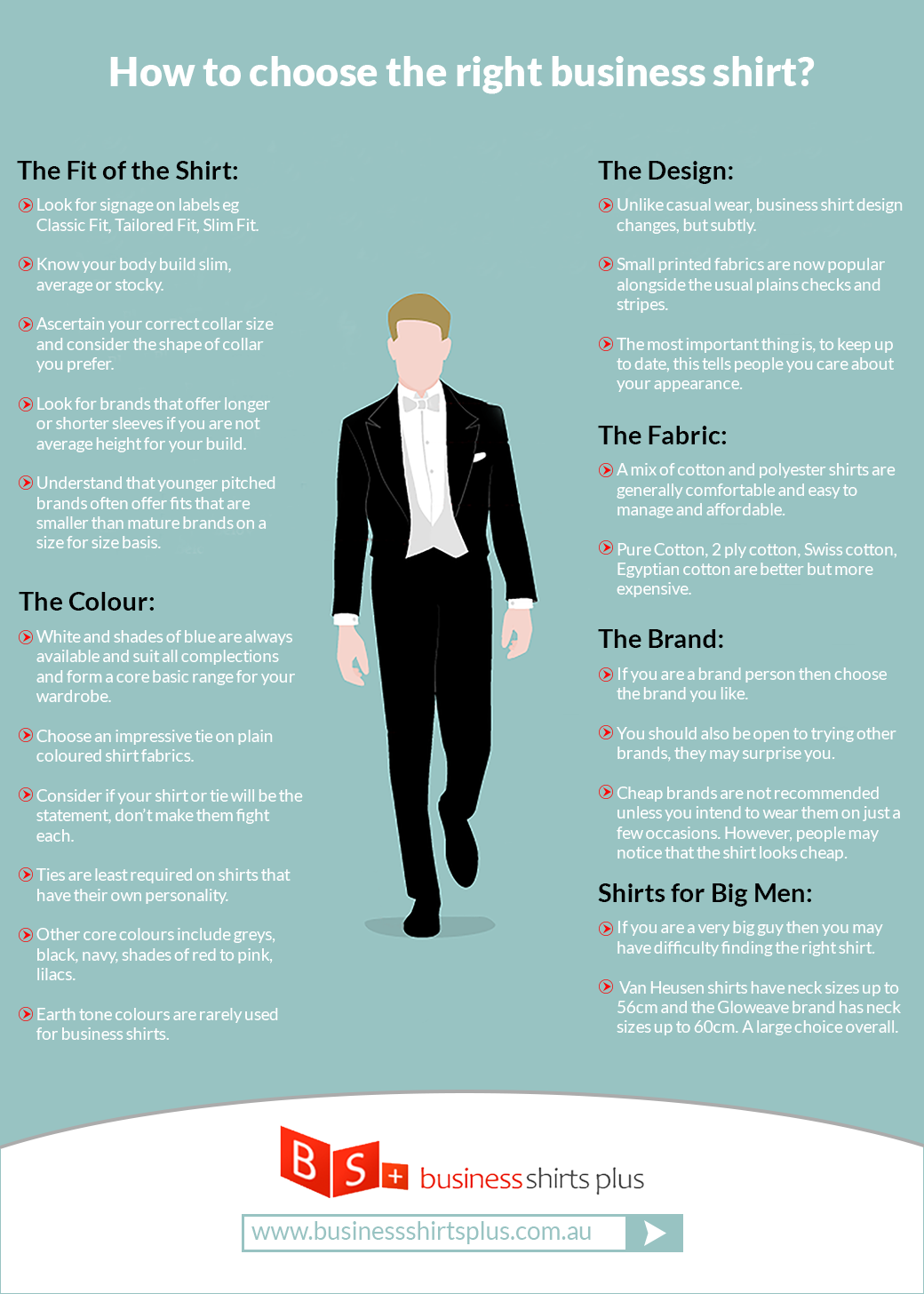 The Fit of the Shirt
While selecting the business shirt that accentuates your look and adds more beauty, the right fit is very necessary. Loose-fitting, wrong seams and overly tight shirts spoil the entire look and thus it becomes very necessary to choose the right fit. To begin with, we must:
Check the label or tag on the shirt that defines slim fit, tailored fit or classic fit. The business shirt comes with a various shaped fit and the buyer must look at what fit suits their body type before picking buying. Classic fit is best suitable for the solid stocky body while slim body type must go with Slim fit and for the in-between size, a Tailored fit is most suitable.
Another fit that needs attention is the collar fit. Different people prefer different collar style and thus identifying your style and choice will give you a more clear vision of what to buy.
Sleeves are another consideration because different sleeve lengths are not made in all brands of shirts. Two brands that do have multi-choice sleeve lengths are Van Heusen and Ganton Shirts. Hence look for these brands and styles that are more toward creating products that suit your choice. Also, some brands are more inclined towards fashion for slim bodies while some brands emphasise on larger body types. Take a little research for the final decision, buy slim business shirts from Business Shirts Plus.
Women are more particular about fit, check out our women's shirt range.
The Colour Choice
Just imagine how you would look in a purple or dark green shirt in your office? This will be a fashion blunder for you and if you want to turn head towards you in praise and not disgrace, the right colour business shirt choice is very important. At the office, selective colours can do wonders and for that:
White and shades of blues make a core place in the wardrobe. These ideal colours go with all body types and complexions without forming any wrong impression.
To accessorise the simple look of plain blue or white, a suitable silk tie can provide the extra oomph you need to look good. A plain shirt with a patterned, not plain tie combination is best. Pay attention that one colour within the tie matches the colour shirt you looking to buy. Make sure to be selective enough so that both the items coordinate with each other perfectly.
Other colour combination that matches well for the office environment are shades of navy blue, greys, black, lilacs and sometimes red or pink when selected wisely. A good business shirt speaks for itself and it just requires a little attention to make the right decision.
The Right Design Selection
Just like casual wear, now business dress shirts have been very closely detailed by the fashion experts and their efforts in changing the office look are worth commendable. Breaking the barrier of plain or chequered shirts these days, fashion stylists have undergone a great change that is seen in styles like:
Small print designs that offer very appealing looks in various colours. Unlike before, today, office wear is very attractive and offers working people more choice to show off their personality and position with their choice of clothes.
Reinventing your office wardrobe can up the personality level and reflect a positive aspect that shows that you care about the current fashion and love being in style and on-trend.
The Shirt Fabric
The right selection of business shirt material makes all the difference. Comfortable and easy-going fabrics like cotton and linen are the core fabric in demand but the great expense of linen makes it less affordable and stick with elite class buyers only. While mens business shirts are made of 55% polyester and 45% cotton or 60% cotton and 40% polyester other slightly more expensive options are 100% cotton, 2ply cotton and Egyptian or Swiss cotton and other cotton varieties.
Cotton is the desired popular choice for business shirts which also come in ample design, colour and styles. They are easily available in the market and fits with everyone's budget. Cotton is a great choice for all seasons. Also, there is the availability today of shirts labelled "easy care" or "easy iron" where technology has stepped in and made a big difference in keeping a better-looking shirt throughout the day. If you are looking for better cotton material then you can try Brooksfield shirts.
Your Brand Choice
It is needless to say that the branded business shirt possesses the power to redefine your style and look inside office premises. You can look absolutely stunning and impressive in them. But the hidden point is to know your brand. You may be obsessed with one or two particular brands, but one should never be confined to them. Trying various style sand brands can add more choice to your wardrobe and who knows your new brand trial becomes your new favourite.
Offering more freedom of choice is very important and breaking the stigma of buying cheap shirts for office too needs to be checked. Our office look needs to be flawless and cheap brands may not provide durable and stylish when compared to top reputed brands. Acting-wise while buying business shirts show how concerned you are towards your look and investment.
Selecting Business Shirts for Big Men
Do not fear or feel bad about your body if you belong to a big man category. Just embrace the fact and make a little research for your perfect business shirt. Modern fashion industry focusses on all sizes and body type and thus brands like Van Heusen and Gloweave Shirts have come up with elite styles and great sizes that go well with big size men too.
Big size guys do have difficulty in finding the best suitable business shirts but when you find the right destination all problems disappear. Big size men are not confined to being less stylish as the best brands are coming forward with patterns and styles both.
The secret for finding the right big men shirt lies in the secret to understanding what points to consider and hopefully, this little guide will guide you the best path.
Don't forget to check our men's shirt size guide page.