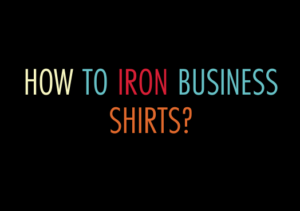 Having ironed my own business shirts for the last 40 years, and working within menswear for the same amount of time, this is how I do it. Firstly if you have new business shirts that need a first iron then it's a good idea to check the care label to see ironing instructions for heat settings for your iron. Natural fibres like all cotton can take more heat than fabrics with a high polyester content.
Here are my six ironing steps for business shirts.
Step One
Iron the collar first, the do front and then the back of the collar.
Step Two
Do the two front panels. Then carefully around the buttons and extra strokes over the chest pocket and around the top of the chest as this wear, the most visible area is.
Step Three
Tackle the shoulders, put the shoulder line around the narrow end of the ironing board and iron each shoulder firmly.
Step Four
The easy bit, iron the back of the shirt with more attention to the yoke of the shirt, the double layer of fabric below the neckline.
Step Five
Flatten out the sleeves as best you can with your hands. Remember here your ironing two pieces of fabric at once so both sides need to be taught. Iron the sleeves down to the cuffs.
Step Six
Open all buttons on and around cuffs, spread out the cuffs on the board and iron on both sides.
Job done! but if you're not wearing your
mens business shirts
right away then it's best to do the top two buttons up and the bottom one or two, so the collar is supported and it holds better in the wardrobe.
If you noticed your shirt looking a bit sad with wear and tear, then head for our website.