Business Shirts Plus has been in operations since being established back in 2002, providing much easier access to a plethora of men's fashion needs at the click of a button. Not to worry, there's one for the businesswomen, too. The company offers free shipping with no minimum purchase required. You can just order the one shirt you need for that one special occasion and have it delivered FREE OF CHARGE anywhere in Australia. Living overseas? Business Shirts Plus Online can offer international shipping. That is with a shipping fee, though, but with the conversion rate of the Australian Dollar, I think, you think you can take advantage of its low cost in delivery charges.
Also, with their fully secure website, Business Shirts Plus Online can guarantee the security of your purchases and that you get what you paid for. Especially with multi-purchase package deals. Buying any two items gives you a 15% discount. Buying three of anything garners you 20% off. But with four or more items purchased, you get the grand prize (or price) of 25% off upon checkout. So, what are you waiting for, browse on our men's business shirts online catalogue and get what you need at your convenience?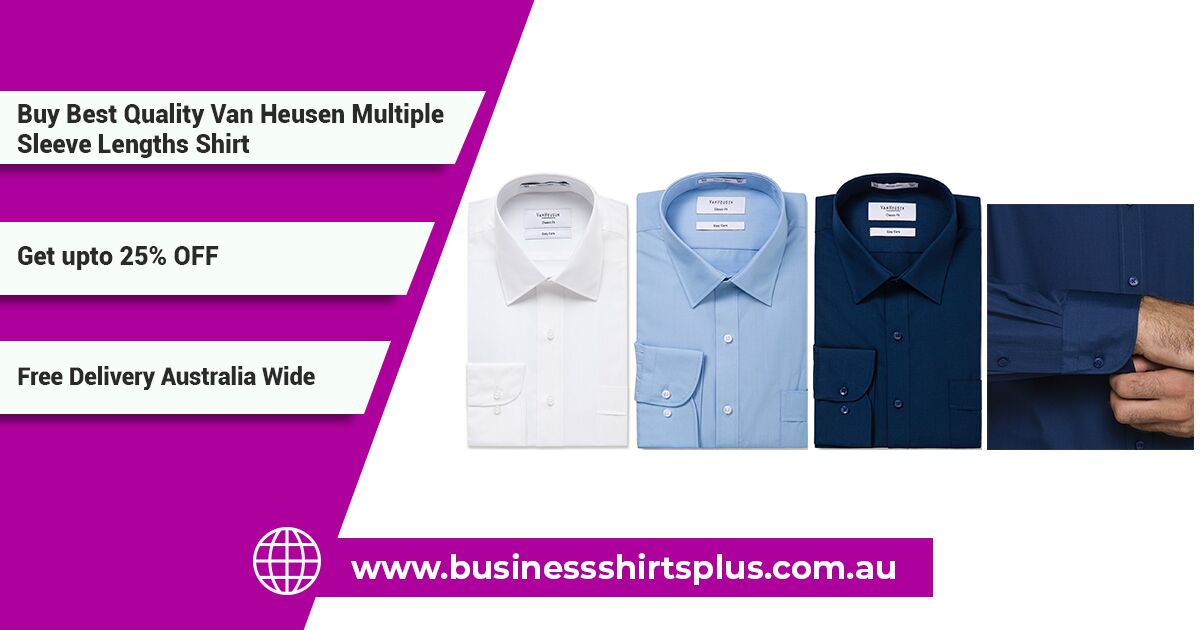 Multiple sleeve lengths shirts
The online catalogue provided by Business Shirts Plus Online can cater to the many needs of anyone that would be browsing the store. Be that you may have longer or shorter arms than on the average, Van Heusen and Ganton are the brands you are looking for. With their offerings for multiple sleeve length shirts, you can be sure that your purchase online won't be in vain. Especially, with the use of their online shirt size guide, you can be able to determine the shirt's fitting before you go for checkout.
https://www.businessshirtsplus.com.au/shirts-online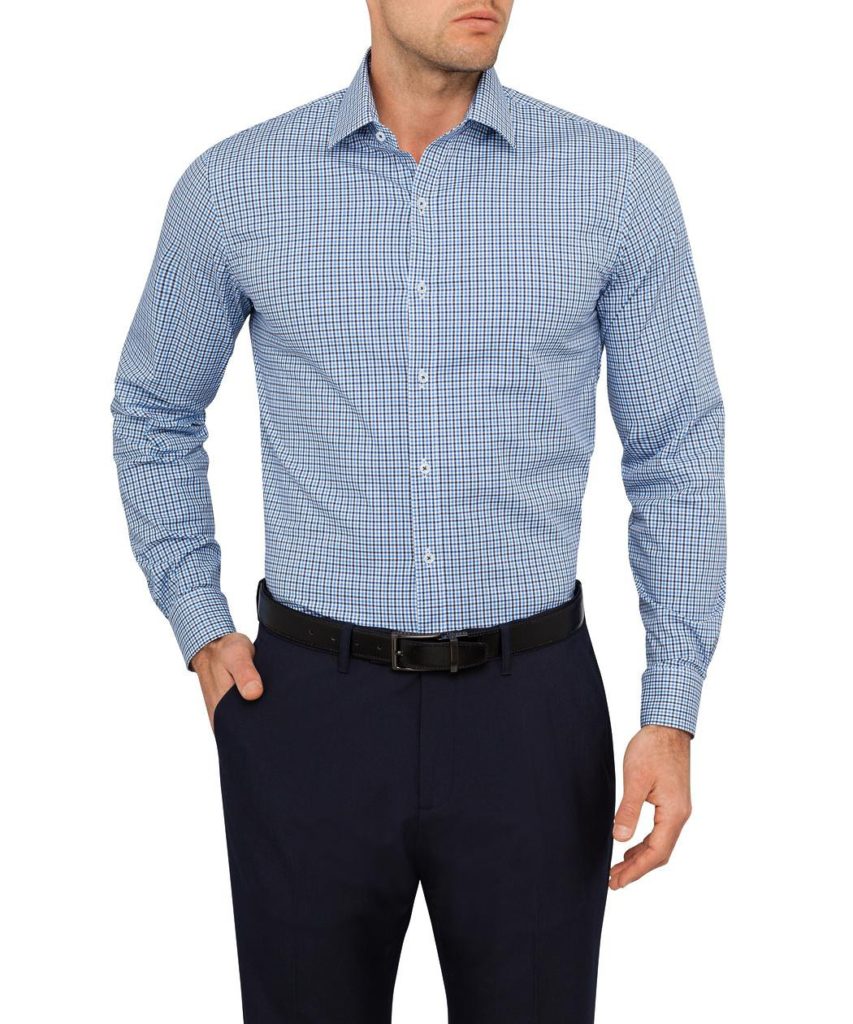 Big men's business shirts
A bit on the big side? Have no fear. Van Heusen's and Gloweave's catalogue for bigger men have you covered. Necklines from 47cm to 60cm are available with the body shape shirts ranging from Classic, European, or Contemporary Fit. All these depending on the style that you desire. With that, you can also purchase the trousers for big men's clothing up to a 132cm waistline.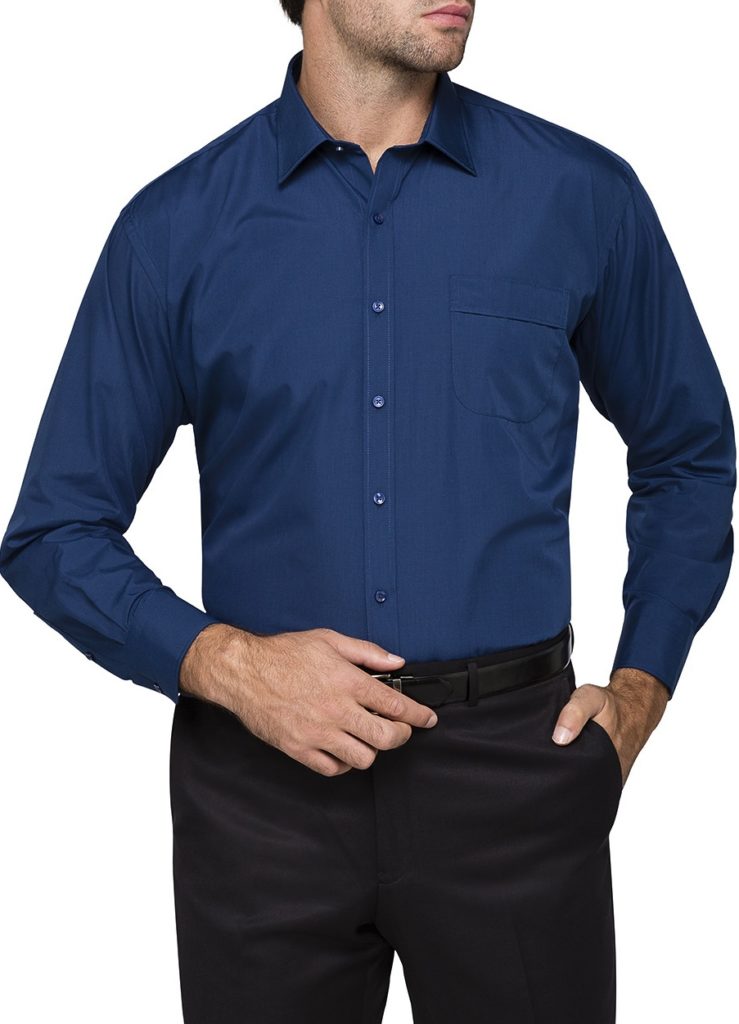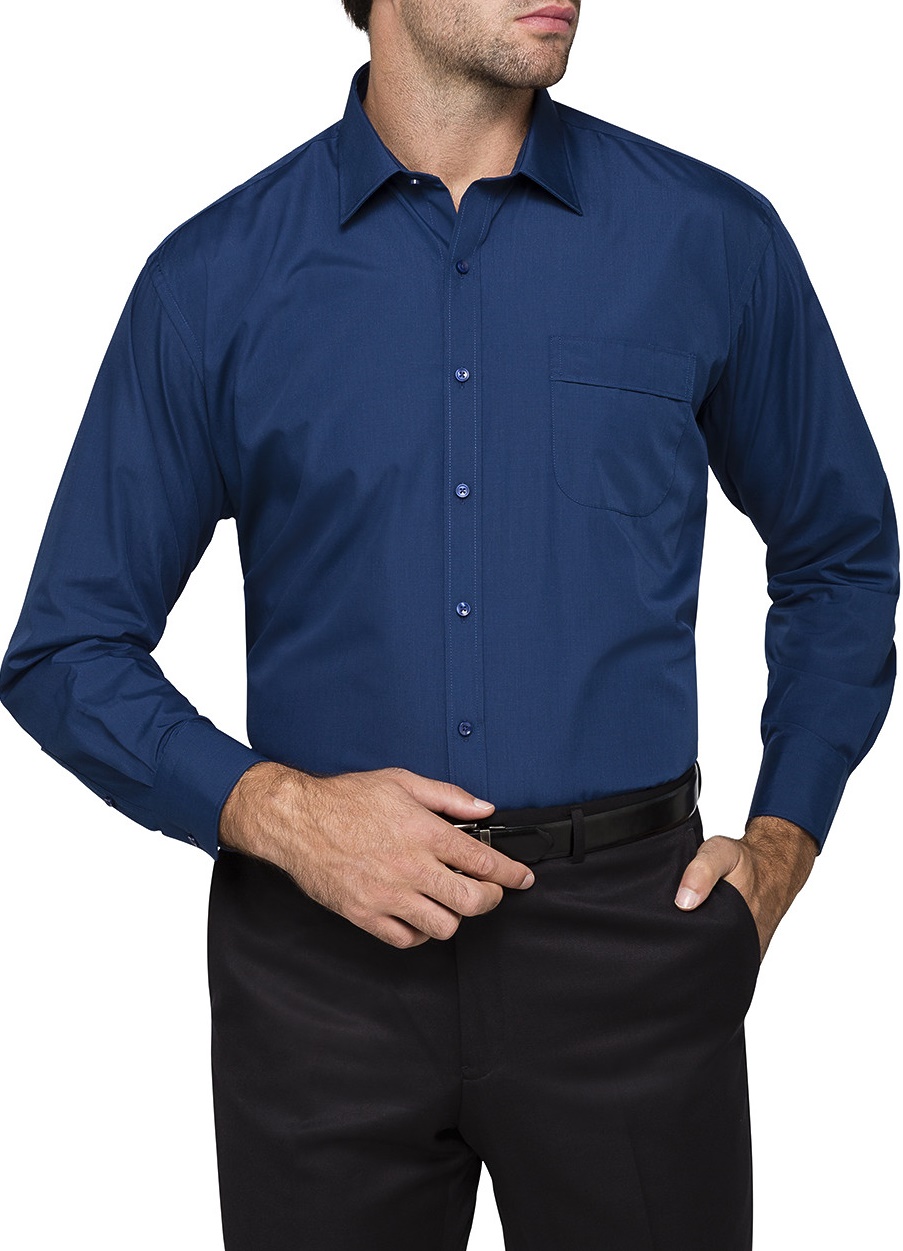 Short sleeve length shirts
You a tough guy? A man of sculpted into the perfection of the masculine body built for finesse? Or maybe the summer heatwave is just around the corner? Apart from being a cooler option to wear for the summer or a just a better shirt to accent your flex, their men's short sleeve catalogue is yours to browse. Classic fit shirts from Van Heusen and Ganton while Gloweave offers the more Contemporary fit depending on your fashion sense and needs.
https://www.businessshirtsplus.com.au/short-sleeve-shirts
Classic, Contemporary, European Fit we have it all
Depending on your body type, build, and your sense of fashion, Business Shirts Plus Online can provide you with the exact shirt for that occasion you need them for. Corporate style, European fit shirts, Contemporary, Tailored/city made, Slim fit, all trimmed to your body type. Just don't forget to use the Size Grid they have generously provided for you and your purchase needs.
Major top brands available at Business Shirts Plus
Brooksfield Shirts, Calvin Klein, Ganton, Gloweave, and Van Heusen. Top brands for you to top your game. These names have stood the test of time to serve your corporate and casual needs anywhere, anytime, and anyplace. Business Shirts Plus Online knows that what they're offering won't let you down.

White or Black business shirts for different occasion
More on the simple side of the cut into fashion? Do the shades of black and white appease you better and express you more? Depending on the occasion, the range of white or black business shirts of any style is at a finger's reach.
Huge range of suits
Pierre Cardin suits are available for purchase as Slim fit suits. Fitting in regular, short, or long sizes, jackets or blazers come from 88cm to 120cm while pants would range from 76cm to 122cm. As a bonus, buying the Jacket and Pants counterparts gets you a 15% discount since it will be counted as two purchased items.
Accessories: Ties, Cufflinks, Socks
Why stop at shirts, jackets, and pants? Business Shirts Plus Online offers silk ties, cufflinks, and socks to overall match the outfit you are shopping for. At checkout, you'd have a full suite ready to be delivered to your doorstep for that special occasion.
So, what are you waiting for? Head on over to Business Shirts Plus Online and get the shirt you want.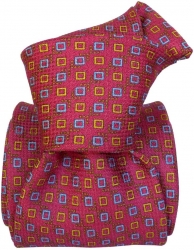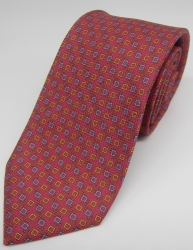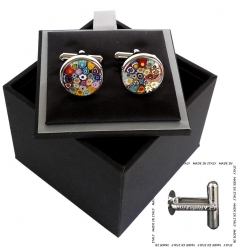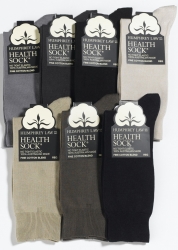 Top 10 reasons why you should purchase your business shirts from Business Shirts Plus
Business Shirts Plus was established in 2002 and we have sold tens of thousands of mens business shirts online.
Here are the top 10 reasons why you should purchase your business shirts from us
Budget Wise
If you buy multiple products from us, we give you discounts that allow you to save on every item through all categories of shirts, clothing and accessories. We make sure that our products are modern and well-priced. So, if you have the urge to spend, spend your money wisely on our products.
Convenience
We make your shopping online easier and stress-free. Choosing the best business shirts from us is easy as we have popular branded shirts for men and you can get the best deal without exhausting your extra time browsing from different online stores.
Quality
When choosing the right business shirt, we ensure that you get the best quality business shirt. We don't like you to spend your money on dress shirts that won't last long. We see to it that our products are all original and not imitations of popular products that sell at a lower price.
We have varieties of brands and categories
You can search for the perfect business shirts or pants by browsing our brands and categories. we sell shirts with multiple sleeve lengths 82cm to 95cm and neck sizes 37cm to 46cm. Plus a big men's shirts selection 47cm to 60cm neck. Women's business shirts are also on offer, some with the same fabrics as the men's shirts, advantageous for corporate wear.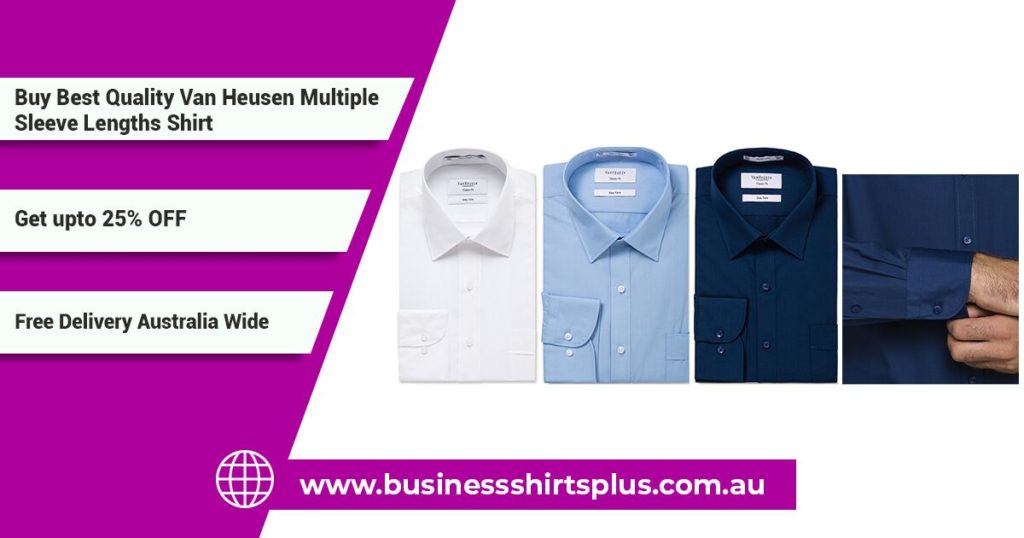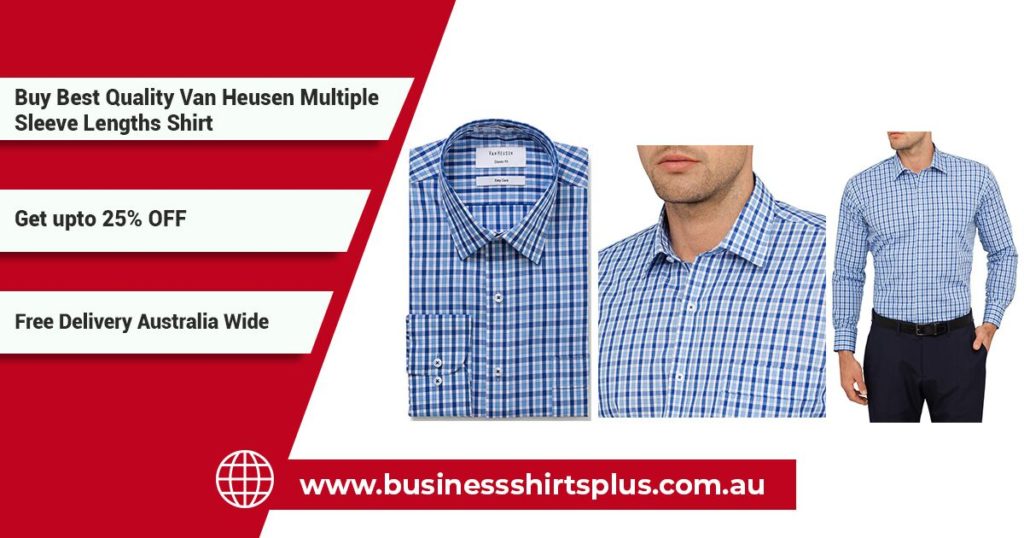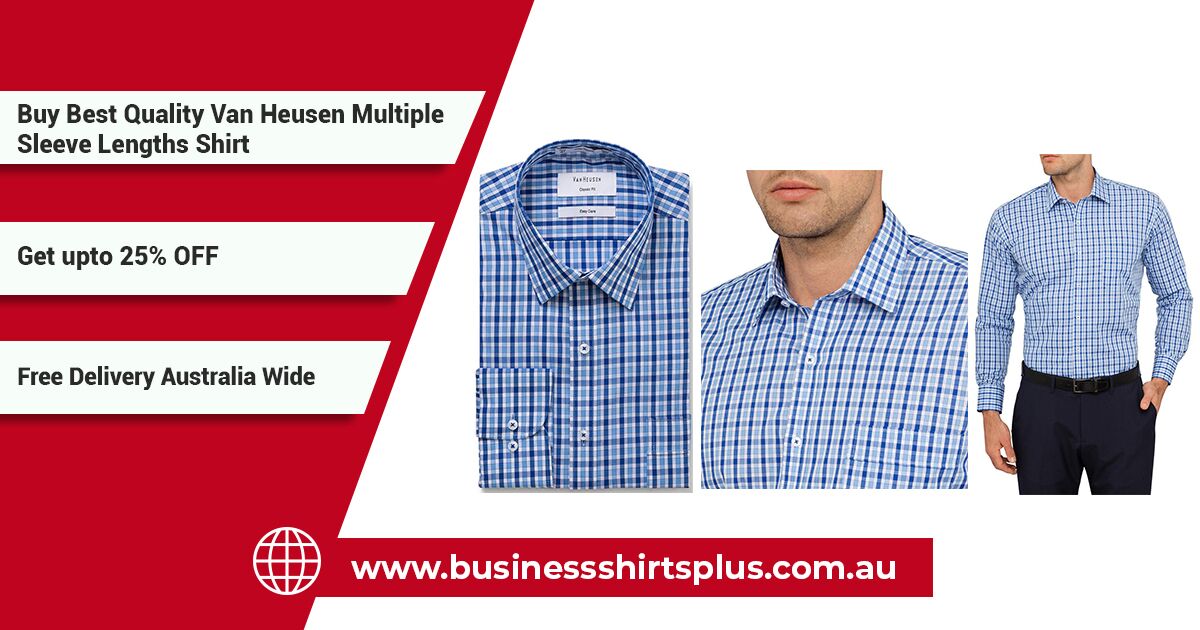 We have the current trend in business shirt design
We make sure that we have the latest designs in our categories and we keep on evolving them.
We have business shirts that will fit your personality.
Our customers are motivated to buy business shirts that are compatible with their personality. We have a selection of products that you can choose from that will help connect with your taste and personality and with the way you want to dress.
We have products online that are unavailable in some other stores
We always take note of our products that sell more than others. This means that these products are sought after by purchasers. We make sure that our suppliers are in stock of those successful items to make sure that we can deliver when a customer wants to purchase.
We have the perfect fit for you
The topmost priority when selecting a business shirt is making sure it fits you well. Are you slim, regular or heavy set or in shirt terms Slim Fit  European Fit or Classic Fit. Here is a quick link to size grid that will guide you to select the perfect size for you https://www.businessshirtsplus.com.au/van-heusen-size-chart.php
Free Delivery in Australia
We offer free delivery in Australia without a minimum purchase amount. International customers can take advantage of the low Australian dollar. We export to risk-free countries around the globe. Click here for our postage charges https://www.businessshirtsplus.com.au/postage.php
We take into consideration our broad audience big or small, young or mature, male or female.
Considering all the abovementioned reasons, we make sure that the business shirts that you are purchasing are appealing to your eyes and to the eyes of people around you. It's not a matter of just value, but also a matter of good taste.