Big Mens Business Shirts
We all know the choices of business shirts for big men are limited and the team of Business Shirts Plus understands this and that is why we have the right collection of big men's shirts for you to choose from.
You can find a range of different brands of plus size shirts on our website as not all manufacturers make plus size shirts, we have done our best to get you the best big men shirts online.Here is neck to body size coversion list for your reference. 47cm = 2XL, 48 & 49cm = 3XL, 50cm = 4XL, 52cm = 5XL, 54cm = 6XL, 56cm = 7XL, 58cm = 8XL, 60cm = 9XL.
Chekout the size guide for more info.
Plus Size Mens Shirts
Considering the limited options available it is better to explore and buy big man shirt online rather than going to different stores to explore the options.

It's faster and easier to find the right neck size and sleeve length based on your need.
Another advantage of shopping online at Business Shirts Plus is that you have a variety of brand and in the physical store you may end up finding expensive options only.
We also have big men classic polo shirts which might be just perfect for you if you are considering casual wear.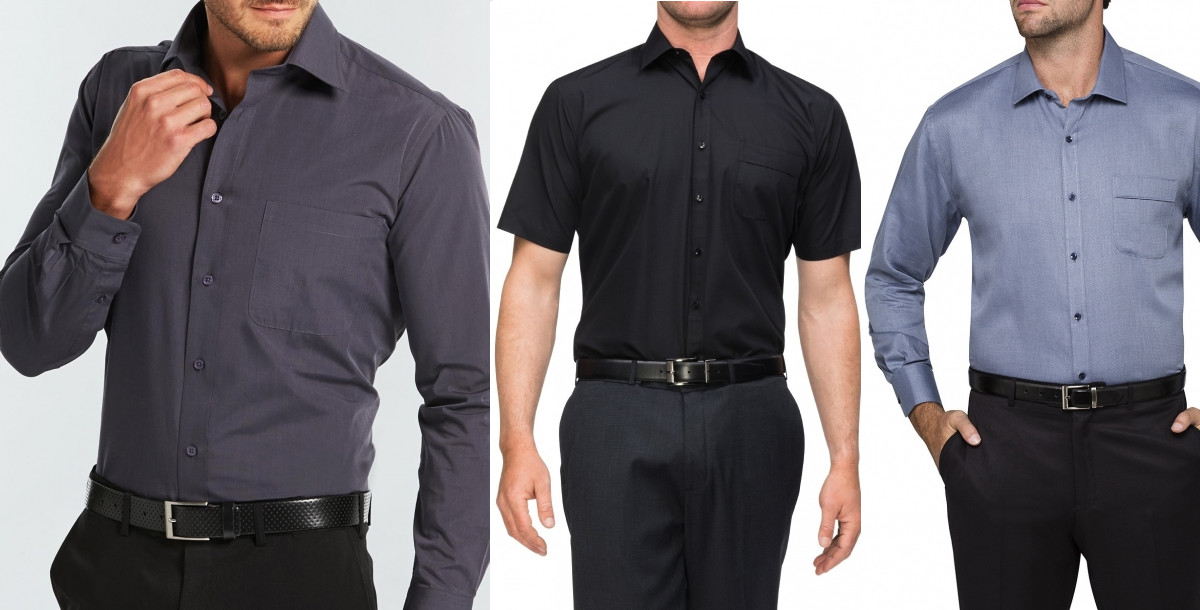 Big Men Shirts Colour
We can proudly say that you will be impressed with the variety we have. You can find white, black, many shades of blue, grey, red in checks and stripes, mostly in easy-care, easy-iron fabrics. A great choice in one spot!
Big Mens Dress Shirts
Business Shirts Plus is a leading retailer of high-quality big mens shirts in Australia. As the name suggests, the store specialises in business shirts, catering specifically to men who require larger sizes. The store offers a wide range of big men's shirts, ranging from classic and traditional styles to more contemporary designs, all made from premium materials that ensure comfort, durability, and style.
One of the standout features of Business Shirts Plus is its commitment to providing high-quality big men's shirts that are both stylish and functional. The online store recognises that many larger men struggle to find shirts that fit well and look good, which is why it offers a wide range of sizes and styles to cater to all body types. The store's extensive range of big mens shirts includes sizes up to 9XL, ensuring that no man is left without a suitable option.
In addition to its range of sizes, Business Shirts Plus also offers a variety of styles and designs to suit different tastes and preferences. Whether you're looking for classic white shirts for the office or more casual designs for everyday wear, the store has you covered. The store's collection includes a range of classic and contemporary designs, including plain, patterned, and textured shirts, allowing you to find the perfect style for any occasion.
Large Mens Business Shirts
One of the most impressive aspects of Business Shirts Plus is its commitment to using only the finest materials in its shirts. The store sources its shirts from reputable suppliers, ensuring that each shirt is made from high-quality materials that are comfortable, breathable, and durable. Whether you prefer cotton, linen, or a blend of materials, the store has a wide range of options to choose from, ensuring that you can find a shirt that meets your specific requirements.
Business Shirts Plus also offers a range of big mens polo shirt options, allowing you to personalise your shirt to suit your individual preferences. You can choose from a variety of collar styles, cuff styles, and sleeve lengths to create a shirt that fits perfectly and looks great. The store also offers monogramming services, allowing you to add your initials or a personalised message to your shirt for a unique touch.