European Fit Shirts
Are you looking for the best Euro fit business shirts online? Buy from Business Shirts Plus, a popular and well-known name in Australia for nearly 20 years.
There is a vast collection of Euro fit shirts on our website in a range of different colours and brands. Van Heusen uses the term Euro Fit or European Fit to denote today's contemporary look.
Euro Tailored Fit
The euro tailored fit shirts are one of the most common to wear at work. These fit the same as European Fit, the word tailored simply to imply to follow the shape of your body.
Some European fit shirts have a choice of two sleeve lengths in neck sizes 41cm and 42cm, the most common sizes. The sleeve lengths are 86cm and 90cm.
Whether you need slim fit shirts or big men shirts of euro fit, we have the shirts for your needs.
Van Heusen Euro Tailored Shirts
Van Heusen Euro tailored shirts are among the most popular choices among buyers because of the design, material and quality.
You can find a wide variety of Van Heusen men's business shirts in our store, including euro tailored.
Contemporary Fit Shirts
The euro fit shape translates into Gloweave shirts as Contemporary Fit, and Ganton shirts use City Fit as their description. All aimed at that middle of the road body type.
Explore the full range above and buy the best shirts online.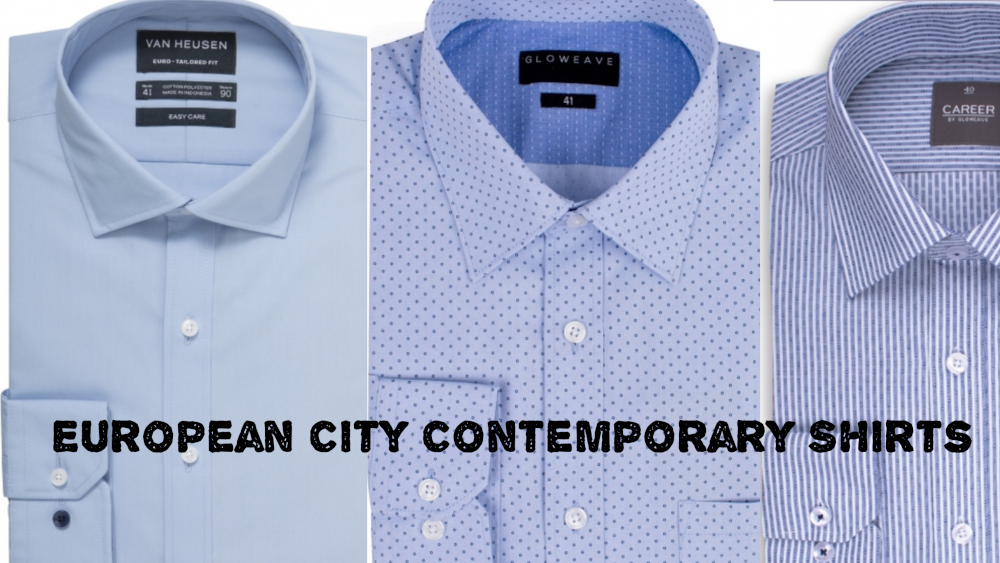 Most of the leading business shirts manufacturers make European fit shirts and we have the following brands on our website:
Brooksfield
Geoffrey Beene
Gloweave
Ganton
Van Heusen
You can also choose from a range of different colours like white, black, navy, sky blue, plus
The shirts above are a greater selection of business shirts as this is where the greater volume of sales come from, that is the average guy wearing todays fashion shirt.
If you are not happy about ironing shirts, maybe the jingle will make you feel happy.
Why Shop at Business Shirts Plus?
Business Shirts Plus is a trusted name in Australia where you can find modern designed shirts at an affordable price.
You can also enjoy up to 25% off when you will buy more products across the website.
Free delivery Australia wide on all orders.