Because I believe every menswear shop should always carry in stock a plain black shirt for their customers and preferably a choice of black shirts our website, Business Shirts Plus has a devoted page full of black business shirts to choose from. Most of all a choice of brands like Van Heusen, Calvin Klein Australia, Brooksfiield Shirts, Gloweave Shirts and a premium brand like Ganton.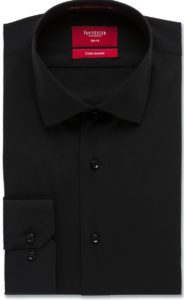 Customers have a great choice because of our dedicated page of black shirts when it comes to different fits. Customer choice is Slim Fit, European Fit and Van Heusen Classic Fit complete with a choice of sleeve lengths in Van Heusen shirts only. French Cuff shirts in black are available from Calvin Klein and Brooksfield
Therefore customers looking for black shirts can get value and choice buying shirts online this can be a wise decision.
Black Shirt Prices
Customers can choose from $49.95 for Van Heusen which is a polyester and cotton Classic Fit. Over a $100 for Ganton pure cotton Slim Fit shirt. If you buy two items a 15% discount applies for three shirts a 20% discount applies. For four or more a 25% discount. Furthermore, the discount applies to any mix of product on the website Business Shirts Plus.
Seems like buying black business shirts are not only that black can be slimming. Black looks good with or without a tie and if a tie is needed it is easy to match on black. Being black dirty marks will not show as much. Black is a handy shirt to have in case the unfortunate happens and you need to attend a funeral. In conclusion, I've convinced myself, I need a black shirt!
Customers can Save up to 25% and Free Delivery on our https secure site every time you visit. For exports, some postage does apply but most of all we do remove the Goods and Sevices Tax ( GST ) for international orders.