Gloweave Business Shirt
The brand Gloweave is one of the most popular brands in Australia and if you need to buy Gloweave shirts online then you have come to the right place.
There is some uniqueness about this brand that you may not find in other brands.
Not many brands manufacture big men shirts, and finding extra-large shirts are not easy. You can purchase Gloweave shirts from our online store at an affordable price.

You can choose from 37cm to 60cm neck size for men and womens business shirts 6 to 26. If you love Aussie brands then Gloweave should be in your list as Melbourne is home for this brand and one of the most loved brands in Australia.
You can get a perfect fit for summer as well as winter business shirts or Gloweave shirts. Whatever your needs may be, explore the range and choose the right shirt for you. We are the perfect place to buy business shirts online.
Gloweave Mens Shirts
At Business Shirts Plus, you can find an array of Gloweave mens shirts along with massive savings. You can get up to 25% off when you will buy multiple items of this brand or a combination of any other. If you are looking for quality shirts in an affordable range then you should consider Gloweave.
Gloweave Womens Shirts
BSP is not only about mens shirts, but you can also find womens shirts range and that too of many brands. Gloweave is one of the few brands on the top list that manufacturers womens business shirts. Whether you need a short sleeve, full sleeve or 3/4 sleeve lengths shirt, we have got you covered. Explore the full range and buy as per your choice.
Gloweave womens shirts have become synonymous with style, quality, and elegance in the world of fashion. With their impeccable craftsmanship and attention to detail, Gloweave has established itself as a trusted brand for women who seek sophistication and refinement in their attire. At Busienss Shirts Plus, you can find a great collection of womens business shirts.
Gloweave womens shirts are crafted using premium fabrics that exude luxury and comfort. Whether its crisp cotton, silky satin, or soft linen, each material is carefully selected to ensure a perfect blend of aesthetics and wearability. The brand offers a wide range of styles, from classic button-down shirts to contemporary blouses, catering to diverse tastes and preferences.
Durability is another hallmark of Gloweave womens shirts. The brands commitment to quality ensures that each garment withstands the test of time, maintaining its shape, color, and overall appearance even after multiple wears and washes. This makes Gloweave shirts a wise investment for women who value longevity in their wardrobe.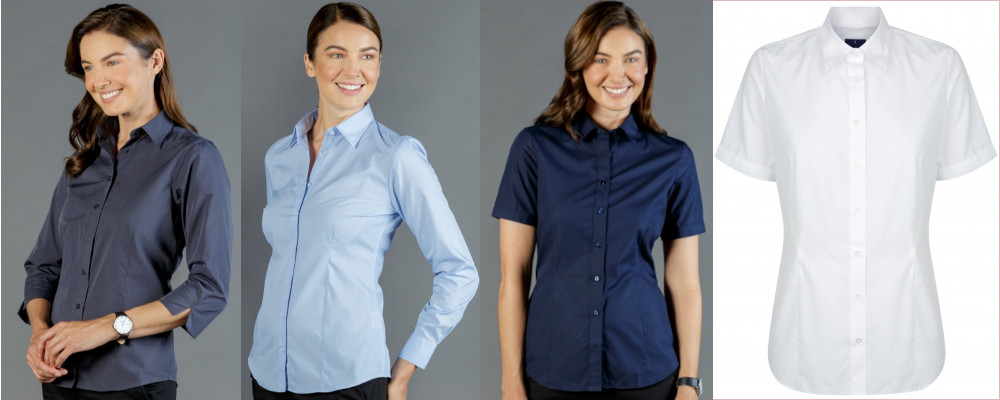 Gloweave Actual Shirt Measurements (not body size)
Contemporary Fit
Collar
37
38
39
40
41
42
43
44
46
47
49
50
52
54
56
58
60
Chest
103
107
111
115
119
123
127
131
140
145
153
157
163
169
175
181
187
Waist
97.5
101.5
105.5
109.5
113.5
117.5
121.5
125.5
134
139
147
151
157
163
169
175
181
Sleeve from Centre Back
85.5
86.5
87.5
88.5
89.5
90.5
91.5
92
94
94.5
96
97
98
99.5
100
101.5
102.5
Sleeve from Shoulder
66
66
66
66
66
66
66
66.5
67
67
67.5
68
68
68.5
68.5
69
69.5
Slim Fit
Collar
37
38
39
40
41
42
43
44
46
47
Chest
100
104
108
112
116
120
124
128
136
145
Waist
92
96
100
104
108
112
116
120
128
139
Sleeve from Centre Back
85.5
86.5
87.5
88.5
89.5
90.5
91.5
92
94
94.5
Sleeve from Shoulder
66
66
66
66
66
66
66
66.5
67
67
5045 Fit
Collar
S
M
L
XL
2XL
3XL
4XL
5XL
6XL
Chest
104
112
120
128
138
148
156
160
164
Waist
100
108
116
124
136
148
156
160
164
Sleeve from Centre Back
100
90
91
92
93
94
94.5
95
95.5
Sleeve from Shoulder
66
66
66
66
66
66
65.5
64.5
63.5
Casual Fit
| | | | | | | |
| --- | --- | --- | --- | --- | --- | --- |
| Collar | S | M | L | XL | 2XL | 3XL |
| Chest | 104 | 112 | 120 | 128 | 136 | 143 |
| Waist | 94 | 102 | 110 | 118 | 126 | 137 |
| Sleeve from Centre Back | 86.5 | 88.5 | 90.5 | 92 | 94 | 94 |
| Sleeve from Shoulder | 66 | 66 | 66 | 66 | 66.5 | 67 |