Corporate Shirts Online
You have come to the right place if you need corporate shirts online. Business Shirts Plus has a competitive position on value and multi-buy prices. As an online retailer in Australia for men and womens business wear including corporate shirts, we offer free delivery on every order.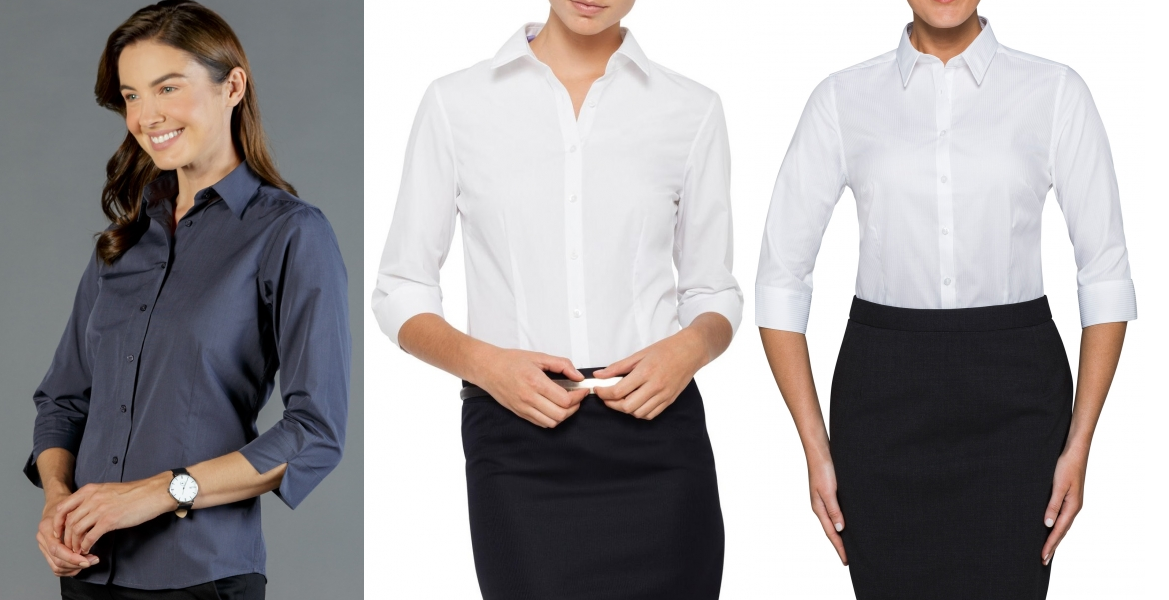 We have a modern collection of corporate shirts which you can buy online including popular brands like Van Heusen, Gloweave and more.
The shirt fabrics on this page are available in both men and womens shirts.
If you require corporate shirts then BSP is the best place to buy.
Why Choose Business Shirts Plus for corporate wear?
A trusted name in Australia for nearly 20 years.
We offer 25% off when you buy four or more items.
You can negotiate for 50 or more items in one order.
Free customer advice if you need to discuss your needs then just call us and talk to our expert.
Women's Corporate Shirts
Women are not behind in the rage of modern work culture and they also need the best attire at work and we have got you covered when it comes to women's corporate shirts.
Whether you need long sleeves, 3/4 sleeve lengths or short sleeves. Or decide on Van Heusen which has A to B and C to D bust fittings, yes a choice of bust fittings in sizes 6 to 14. We have it all for you.

Van Heusen and Gloweave are the brands known for producing an amazing range of corporate wear.
There are three sleeve length options, long sleeve, three quarter sleeve and short sleeve plus within Van Heusen there is two bust size fittings in sizes 8 to 14. Womens sizes can range from 6 to 28. Get the best womens dress shirts from Busienss Shirts Plus.
Mens Corporate Shirts
Options can be long sleeve or short sleeve and classic fit, european fit and slim fit, colours of white, blue, grey, black, burgundy, royal etc. Mens sizes can range from 37 to 56 neck.
Whatever your needs may be related to corporate work, we have the answer for you. You can choose from the best men's corporate shirts and you can also get trousers and suits in our online store.
A great selection of colours in stripes, checks and plains. Our Van Heusen shirts also offer a choice of sleeve lengths. It's wise to choose easy-care easy-iron fabrics of which we have plenty. Just explore the range above and buy the design you love.
Corporate Wear
When your looking for corporate wear, be aware that some websites are showing prices without GST which must be taken into account, where our prices are prices include GST and you only need 4 items to receive a 25% saving and free delivery, plus the assurance of known brand
FAQ
Q. Where to buy corporate wear in Australia ?
A. Corporate wear comes in many forms, the major split is clothing for blue collar workers or clothing for white collar workers. There is a vast array of suppliers online in Australia so be specific eg corporate business shirts
Q. What savings can I expect for a corporate clothing order in Australia ?
A. Firstly establish what is the recomended retail or full price for the items you are intrested in. If you can achieve up to 40% off and remembering it must be a replenishable item that would be a good result.
Q. How long does a corporate wear order take to deliver ?
A. Replenishable corporate clothing is for most of the time only a week away, however if you also require company logo's applied that may add a further one to three weeks.