White Shirts for Men
White shirts for men can be a blank canvas that will suit any tie you own, no big decisions in the morning about which shirt to wear, just the tie.
Our white dress shirts start at $49.95 up to $139.95. All our quality brands, Van Heusen, Calvin Klein, Ganton and Gloweave have white shirt selections ie plain poplin weave, herringbone, oxford, self satin stripe, nail head weave etc. Fabric content is a choice of poly/cotton, cotton rich and 100% cotton. If you see the words easy care this also means easy iron.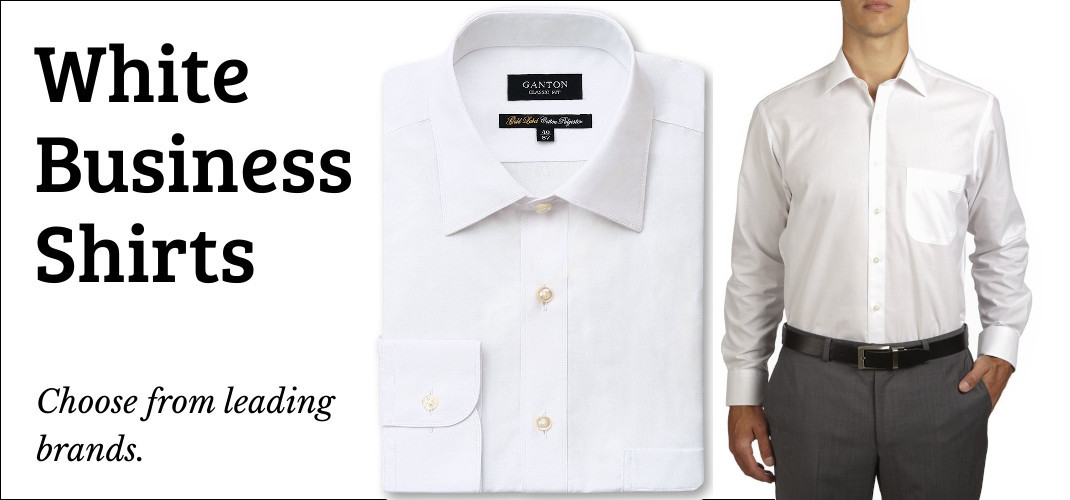 Men's White Shirts
Buying from Business Shirts Plus you can buy white shirts in slim, european or classic fit. Plus we have white shirts in multiple sleeve lengths. Not to forget the guys in hot climates we have white shirts in short sleeves.
If your going to stick with white shirts then perhaps some french cuff shirts rather than all single cuffs.
Now the great thing about buying white shirts from us is the FREE Delivery throughout Australia and a 25% saving from the recommended retail price on any four or more items from our website.
Since 2002 our experience of selling menswear online will keep you in good stead.
Note to all our New Zealand and International customers we remove the 10% Australian Goods and Services Tax ( GST ) at point of sale from our quoted prices.
FAQ
What are the best business shirt brands for a white shirt?
A. The best brands are quality brands that offer the best fit ie Van Heusen and Ganton have a large choice of different sleeve lengths in Classic Fit. Fabric choices can range from poly/cotton to cotton /poly and 100% cotton. Body fit choices are Classic, European / City Fit and Slim Fit.
How many white shirts should I have in my wardrobe?
A. For the five day working week I would recommend seven to eight shirts, some will always be taking their turn in the wash basket.
How to identify the different shade of white business shirts?
A. This difference mostly comes from the density of the fabfic eg A 65% poly and 35% cotton poplin shirt will be very shear and your body colour will dull the white colour. At the other end of the scale some fabrics have been treated to be extra white ie Calvin Klein Infinite White Shirt
When can I wear a white shirt?
A. Well traditionally, weddings, furnerals, and "white collar jobs" There is no rule, except to say without a tie a plain white shirt can look like an unfinished canvas. White linen shirts are an exemption as linen has a character of it's own.