Mens Shirt Size Guide - Gloweave
On the first chart below there are three fits from Gloweave the first called Career Fit / Regular Fit this is the volume seller, the shirt for most men. This contemporary shape means it is the regular fit for today a shape that is slimmer than 10 years ago. Next is the Cafe Fit / Slim Fit here is a shirt for the youthful figure, a fit that is purposely closer to the body to show ones physic. Lastly, the 5045 Fit which is an iconic shirt that has been with Gloweave for decades, this shirt is a full fitting shirt selling mostly now in the country regions of Australia as a "blue collar" shirt. Also, its Style No is 5045.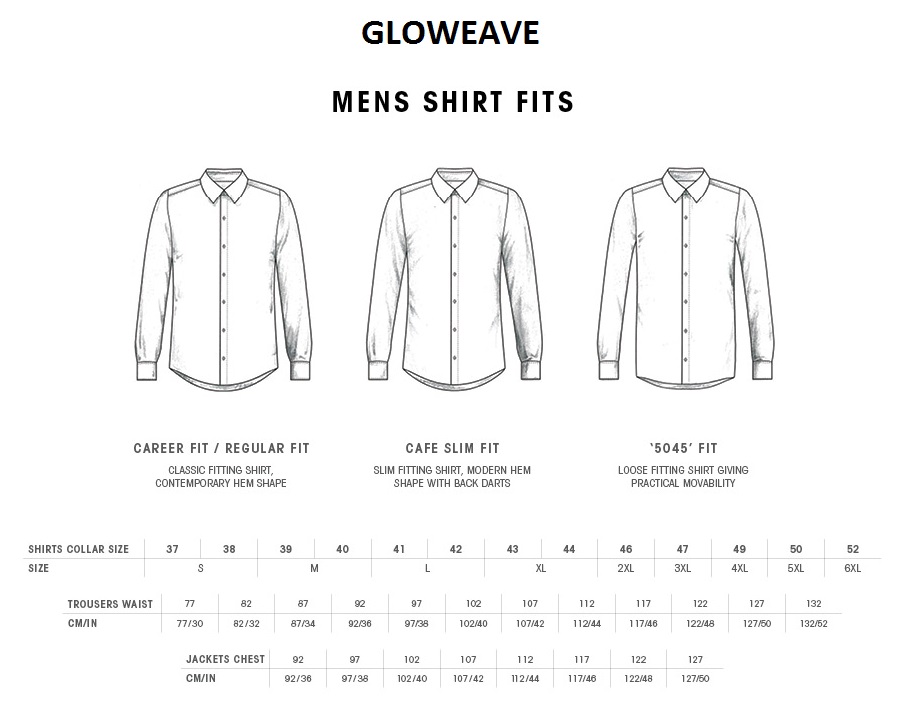 Sleeve Length Chart
The Vertical Chart is simply all neck sizes available from Gloweave and the sleeve length in centimetres for every collar size. To see how you measure a
sleeve length
.

Clothing Size Chart and Shirt Sizes
The last chart covers how to measure your neck, chest and waist.and show Gloweave Shirts and Gloweave Outerwear measurements also how Small, Medium, Large etc equates to neck size. You will see too the chart shows what your physical chest measurement needs to be to fit that shirt it is not the shirt measurement. Although shirts are what Gloweave are famous for they also sell a washable suit and chinos too and those fit statistics are included as well.