Geoffrey Beene Shirts
Millions of Americans choose Geoffrey Beene shirts as they are available in many department stores in the US. Success has come from high quality at a reasonable price, fashionability and of course their famous Non-Iron shirt innovations. Fabric selections are always pure cotton or CVC which means chief value cotton. So there are no Polyester dominant shirts amongst the Geoffrey Beene shirt range which are traditionally used for the lower price point end of the market.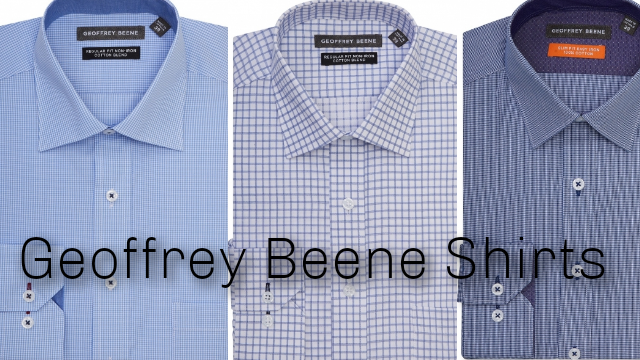 Within the Geoffrey Beene shirt range, you will find all the core colours for men such as white, blue, navy, black and styles in the single cuff and french cuff and three body shapes to ensure the right fit for you.
Geoffrey Beene Shirts Online
If you believe in buying the best quality products online and if you are a brand person then you should consider Geoffrey Beene Shirts. The brand is known for producing business shirts with high-quality fabric.
There are many brands in the market but not many are known for producing less maintenance business shirts. Geoffrey Beene is one of them and commonly known for producing non-iron business shirts.
You can get slim fit Geoffrey Beene shirts as well as regular fit.
See the range and experience high-quality men's business shirts by Geoffrey Beene.
Buy your choice of Geoffrey Beene shirts in Australia from Business Shirts Plus.
Geoffrey Beene Classic Fit Shirts
Geoffrey Beene is known for its classic and contemporary fit business shirts with the non-iron feature.
Check out our business shirts size guide for more information on the size so that you can choose the right shirt based on your needs.
Geoffrey Beene Slim Fit Shirts
Buy Geoffrey Beene slim fit shirts now and look best at work. Designed with care and fashion in mind, add more value to your wardrobe and choose the best shirt from a range of collections online.
Geoffrey Beene Shirt Sizes
| | | | |
| --- | --- | --- | --- |
| Regular Fit | Sleeve Length(cm) | Chest (cm) | Waist (cm) |
| 38 | 87 | 112 | 106 |
| 39 | 88 | 114 | 108 |
| 40 | 89 | 116 | 110 |
| 41 | 90 | 118 | 112 |
| 42 | 91 | 124 | 118 |
| 43 | 92 | 128 | 122 |
| 44 | 93 | 130 | 124 |
| 46 | 94 | 134 | 128 |
| 48 | 95 | 138 | 132 |
| 50 | 96 | 142 | 136 |
| | | | |
| --- | --- | --- | --- |
| Slim Fit | Sleeve Length(cm) | Chest (cm) | Waist (cm) |
| 38 | 88 | 108 | 98 |
| 39 | 89 | 112 | 102 |
| 40 | 89 | 114 | 104 |
| 41 | 90 | 118 | 108 |
| 42 | 90 | 120 | 110 |
| 43 | 91 | 124 | 112 |
| 44 | 91 | 126 | 114 |
| 46 | 92 | 130 | 120 |
| 48 | 93 | 136 | 126 |
| 50 | 94 | 142 | 132 |
| | | | | |
| --- | --- | --- | --- | --- |
| Body Fit | Neck(cm) | Sleeve Length(cm) | Chest (cm) | Waist (cm) |
| S | 38 | 86 | 101 | 88 |
| M | 40 | 88 | 107 | 94 |
| L | 42 | 90 | 113 | 100 |
| XL | 44 | 91 | 119 | 106 |
| 2XL | 46 | 92 | 125 | 112 |
| 3XL | 48 | 94 | 131 | 118 |