Van Heusen
We believe there is a reason Van Heusen is the number one business shirt brand in Australia. We know having their multiple sleeve lengths is a real plus for our online business and a plus for our customers. Van Heusens attention to fit certain body types with their Classic Fit, European Fit and Slim Fit is another plus, also a huge range of neck sizes from 37cm to 56cm.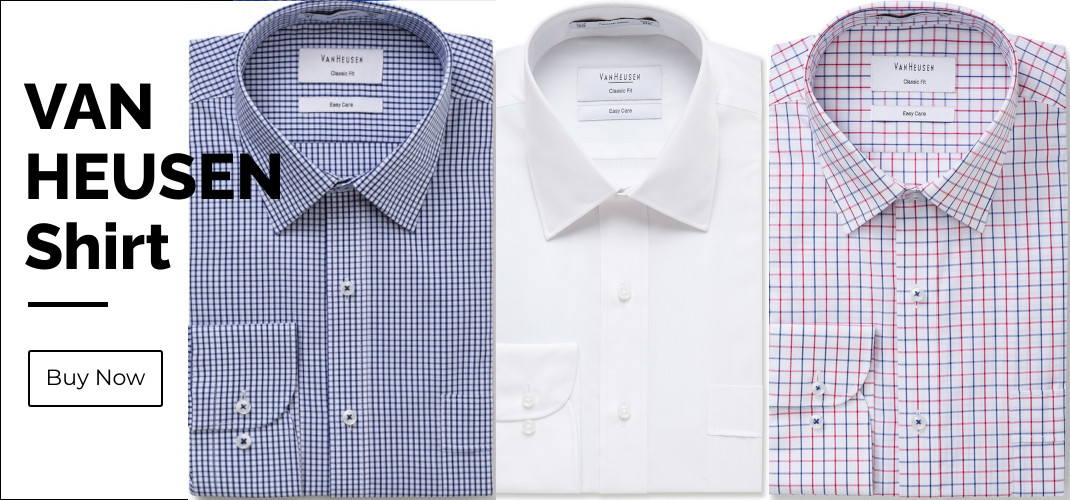 The brand is highly trusted and among the top of business shirts manufacturers. If you are looking to buy premium quality men's shirts, you should consider Van Heusen as your choice brand.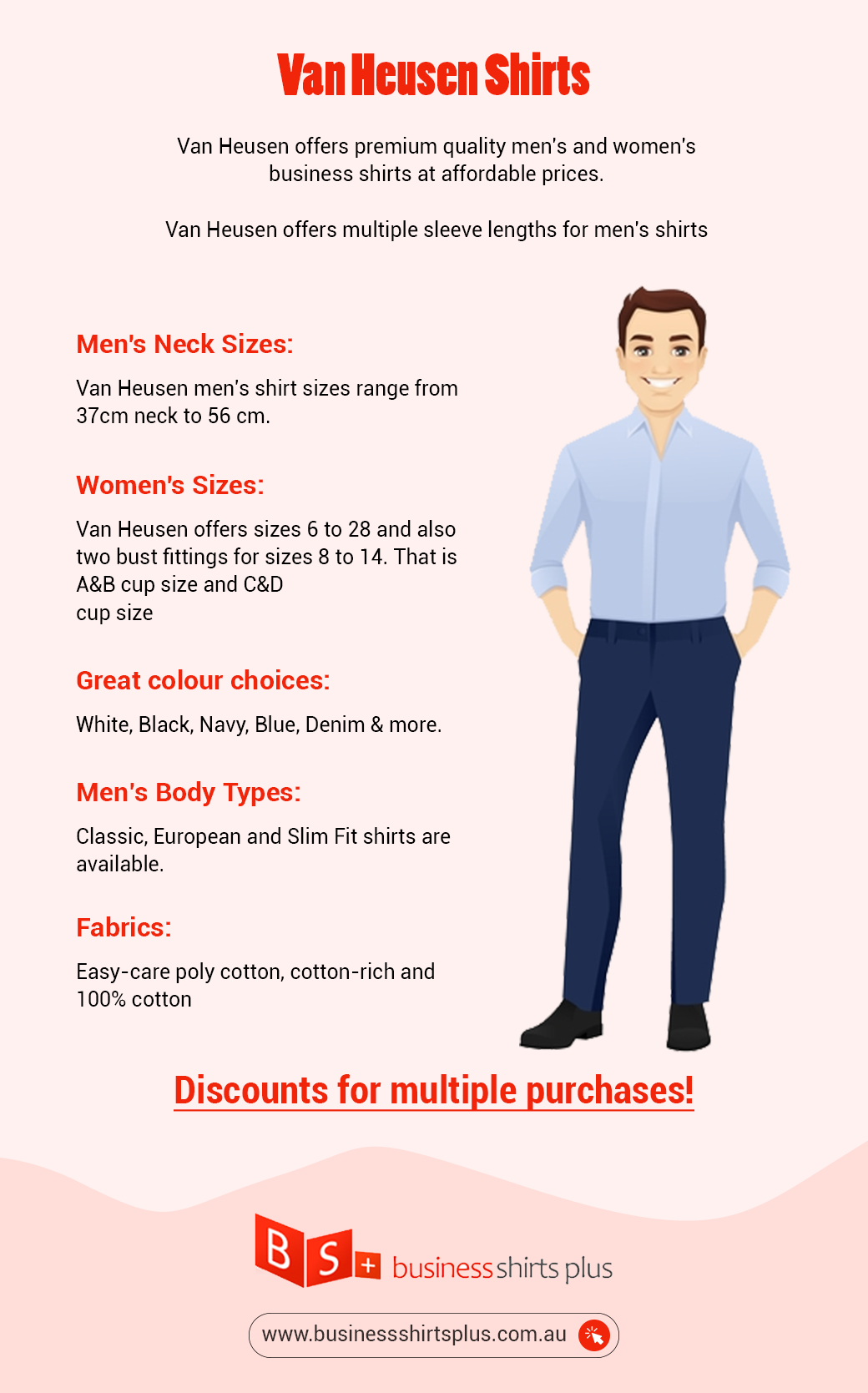 Where you need shirts for men or women's attire, Van Heusen has got you covered. Explore the range of options we have on our website.
We have amazing multiple buy offers, purchase four products or more, and receive 25% off, from any product or brand choice. Also, you will get free delivery Australia wide.
Van Heusen Dress Shirts
If you are going for an occasion like a formal dinner, wedding day or any other kind of function, your dress shirt will reflect your personality, and there is no better way to boost than getting top of the range Van Heusen dress shirts.

You can choose plain colour shirts or perhaps checks or striped shirts; you can find a good selection on our website.
Van Heusen Womens Attire
As more and more women are at work, the demand for formal wear increases by the day. And at Business Shirts Plus, you can also get Van Heusens best range of women's shirts.
You can find full sleeves and half sleeve women's business shirts plus exclusive to Van Heusen two bust fittings in sizes 8 to 14
Colour and Fit
The range of Business Shirts Plus is very diverse with colour as well as fit selection.
Colour: You can get popular colours like Black, White, Blue, Silver, Grey, Charcoal etc.
Fit: You can buy men's Slim fit, European fit, Classic fit and big men shirt sizes up to 56cm neck
Place your order now and save!
Van Heusen Actual Shirt Measurements (not body size)
Classic Relaxed Fit
| | | | |
| --- | --- | --- | --- |
| Collar | Chest | Waist | Sleeve Option |
| 37 | 108 | 98 | 82 |
| 38 | 114 | 105 | 82, 86 |
| 39 | 120 | 110 | 82, 86, 90 |
| 40 | 122 | 113 | 82, 86, 90 |
| 41 | 122 | 118 | 82, 86, 90 |
| 42 | 128 | 118 | 82, 86, 90 |
| 43 | 136 | 129 | 86, 90 |
| 44 | 142 | 132 | 86, 90 |
| 46 | 146 | 142 | 90 |
| 48 | 151 | 148 | 92 |
| 50 | 156 | 154 | 92 |
Van Heusen, a dominant brand
Van Heusen is the top selling business shirt in Australia and so to in its home country the USA. Van Heusens high quality, innovative business shirts are carfully selected to provide consumers with on trend seasonal patterns and colours as well as timeless basics. Offering multiple sleeve lengths in easy care or natural fabrics at affordable prices reinforces why Van Heusen shirts are the worlds number one selling shirts.
Van Heusen on the map. Soon, the company was listed on the New York Stock Exchange and the Van Heusen brand acquired a reputation for its creative marketing.
FAQ
Q. What is a tapered fit shirt?
A. In todays market there are three main groups of fit shapes for mens shirts. Firstly the Classic or Regular Fit shirt which has the most generous cicumfrence, more box like. Secondly, European Fit, Tapered Fit , City Fit or Contemporary Fit this is the middle ground, a shirt that slightly tapers from the chest down to the waist. Lastly Slim Fit or Extra Slim Fit a body hugging fit to show ones physic. So pick your shape first then your collar size when buying a business shirt.
Q. Why do people choose Van Heusen shirts?
A. Van Heusen has been around for over a hundred years, from generation to generation, it stands for inovation, quality and has international acceptance and most of all is aimed at the sweet spot of the mass middle market. Affordable for most everyone.