Van Heusen
We believe there is a reason Van Heusen is the number one business shirt brand in Australia. We know having their multiple sleeve lengths is a real plus for our online business and a plus for our customers. Van Heusens attention to fit certain body types with their Classic Fit, European Fit and Slim Fit is another plus, also a huge range of neck sizes from 37cm to 56cm.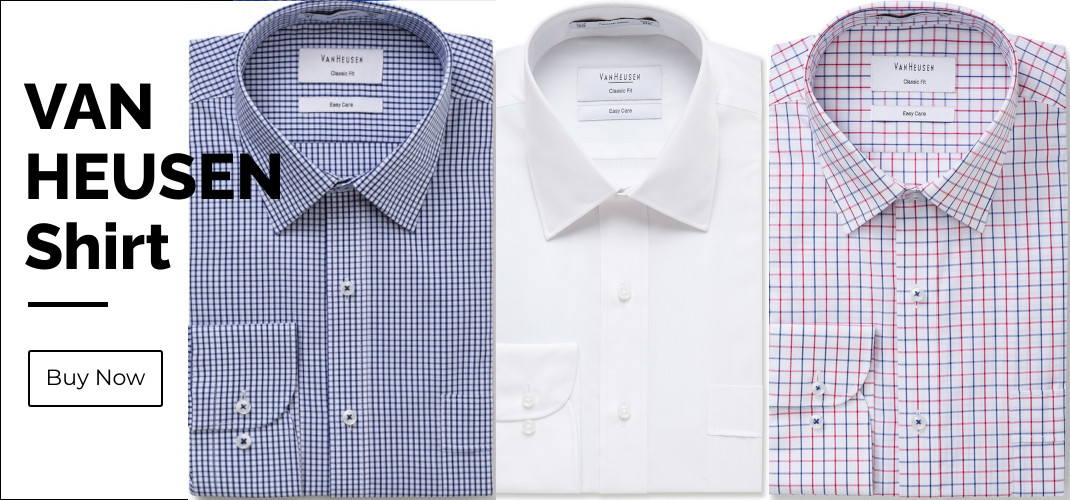 The History of Van Heusen
In 1910 Moses Phillips and his son Isaac aspired to expand their clothing line and extend their reach, so they moved business operations to 502- 504 Broadway in New York City from Pennsylvania. With this move, the Phillips famikly business made the leap from small town to the national stage.
Also in 1910 a Dutch immigrant named John Manning Van Heusen invented a new process that fused cloth on a curve, fashioning a soft fold collar that captured the stiff collat look of the vera while affording the wearer a more comfortable fit.
After his quest to perfect his collar, Mr Van Heusen looked for a partner or buyer, and met with Isaac Phillips. The Phillips - Van Heusen alliance was born in 1919, the same year Van Heusens collar was patented in the United States. Van Heusen collars werec introduced to the public in 1921 and backed by the Worlds Smartest Collar, the companys first advertising campaign.
The collar and the campaign put Van Heusen on the map. Soon, the company was listed on the New York Stock Exchange and the Van Heusen brand acquired a reputation for its creative marketing.
FAQ
Q. What is a tapered fit shirt?
A. In todays market there are three main groups of fit shapes for mens shirts. Firstly the Classic or Regular Fit shirt which has the most generous cicumfrence, more box like. Secondly, European Fit, Tapered Fit , City Fit or Contemporary Fit this is the middle ground, a shirt that slightly tapers from the chest down to the waist. Lastly Slim Fit or Extra Slim Fit a body hugging fit to show ones physic. So pick your shape first then your collar size when buying a business shirt.
Q. Why do people choose Van Heusen shirts?
A. Van Heusen has been around for over a hundred years, from generation to generation, it stands for inovation, quality and has international acceptance and most of all is aimed at the sweet spot of the mass middle market. Affordable for most everyone.