Womens Size Chart - Van Heusen Shirts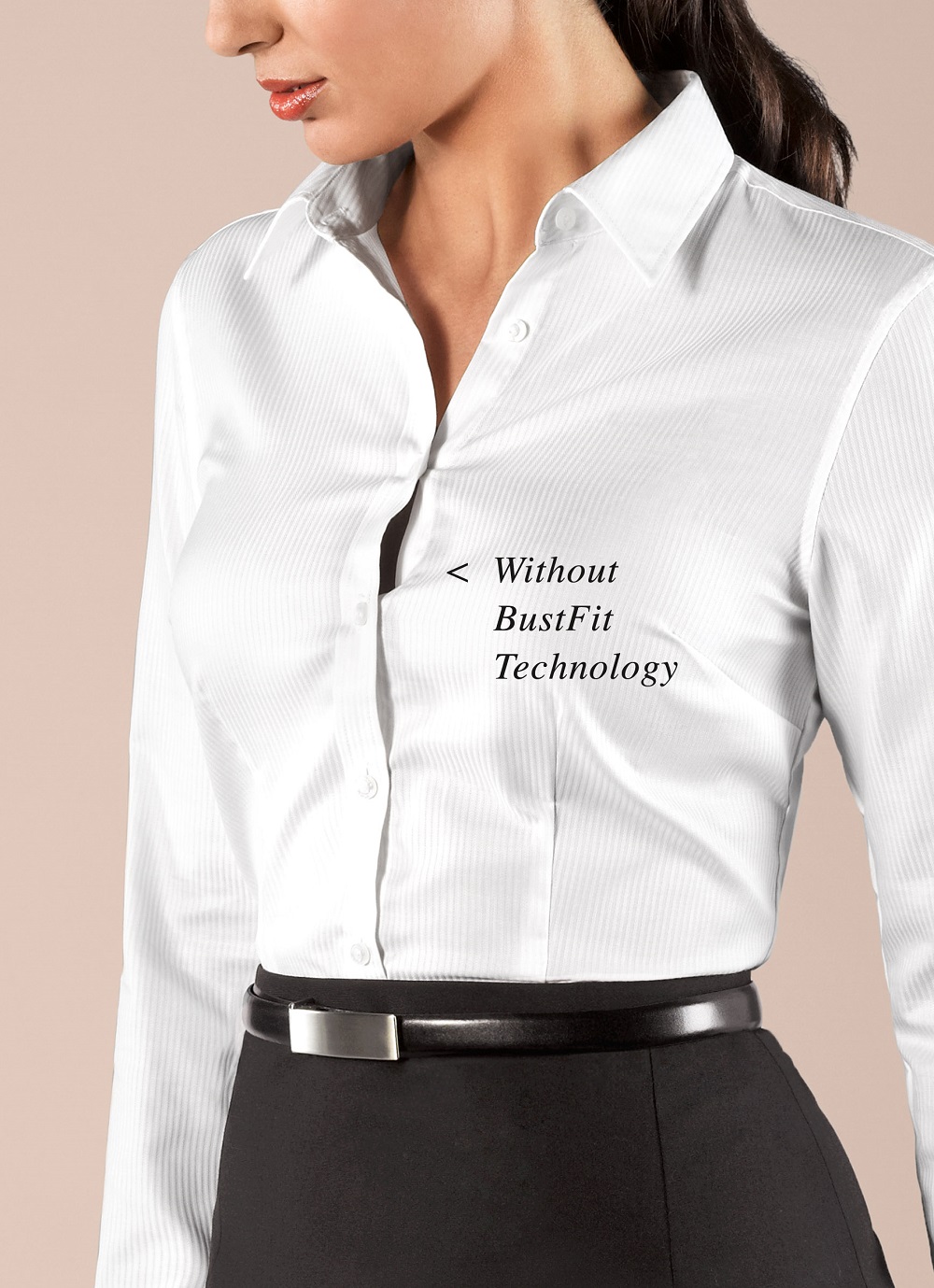 Due to an uplift of women working in the corporate world, Van Heusen has introduced a more refined fit for womens business shirts by including two bust size options in the most common sizes 8 to 14. So within these sizes, you can choose a shirt to fit A and B cup or a shirt to fit C and D cup. This may well eliminate the gap between the shirt buttons that can arise over the bust of the larger cup sized ladies. Buy best quality womens business shirts from Business Shirts Plus.
Plus Size Womens Clothing
Another aspect that Van Heusen has taken into account is the call for plus size womens clothes. On offer is way beyond size 18 another five sizes up to size 28. With Business Shirts Online you can buy your plus size online and save with our multiple purchase offer.
Shirt Sizes versus Actual Body Sizes
The Van Heusen size chart has measurements for the actual shirt measurements in inches and centimetres, not your physical measurements. Therefore an allowance is always made of 15cm to 20cm or 6 inches to 8 inches to allow room for movement within the shirt. If it all gets a bit much then do this. Find the shirt in your wardrobe that fits you best of all and measures the chest and waist as encircled below in the diagram. Use those two measurements against the size grid to find the closest size possible.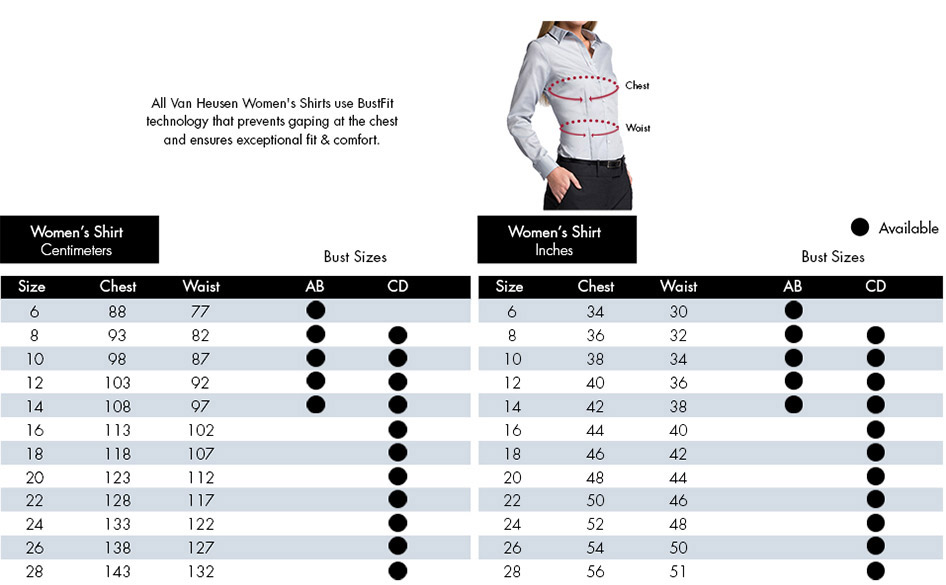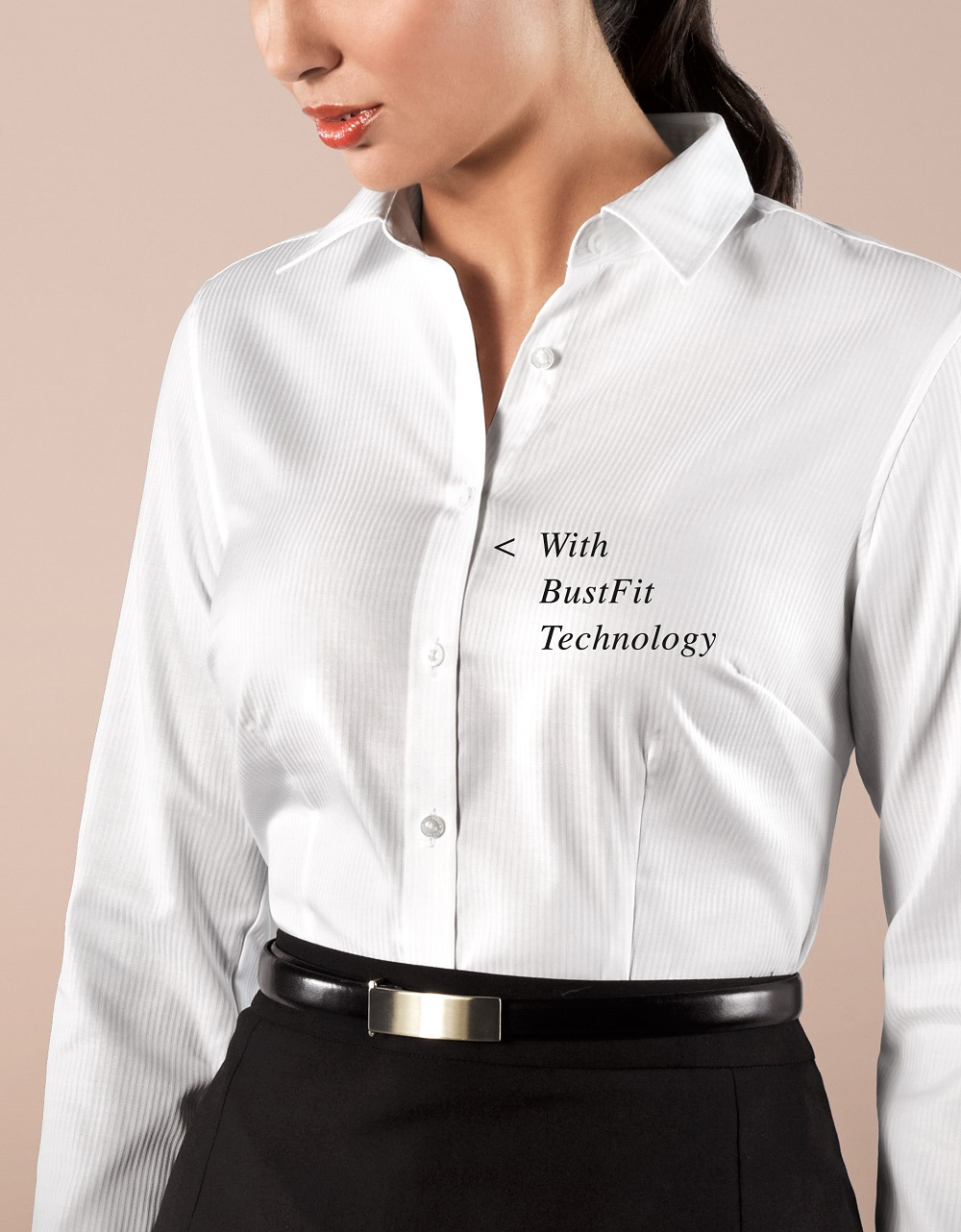 To view the entire range of
womens business shirts
on one page.
Gloweave Womens Shirt Size Chart
Gloweave have a substantial amount of womens shirts out in the business workforce and to compliment that volume there are three body fit variations. Firstly Career Fit which is the roomiest of the three fits. Secondly, Cafr Fit which is slightly slimmer and lastly a Slim Fit for the more youthful appearance. Each three fits have front and back darts to compliment a womans figure. Illustrated below are long sleeve shirts, however, three quarter length sleeves and short sleeves are available too.



Ladies Shirt Size Chart
Ladies sizes are less complicated than mens as it is just numbered size 6 to size 26 whether it is tops or bottoms. The difference comes from different interpretations of what is a size 10 for example. Each brand has a different take on the correct size. The graph below gives the persons actual measurement in centimetres of bust and waist and what numbered size Gloweave match to it. From that, consider if you want your shirt loose - Career Fit or middle of the road - Cafe Fit or a tighter fit being - Slim Fit.