Plus Size Mens Clothing
We know that buying plus size mens clothing online can be expensive, however fabric usage can be more than double of smaller sizes. So we hope our multiple buy savings can lessen the price for you and then take advantage of our free delivery to make your plus size mens clothing cheap.
Click here for big mens shirts
Big Mens Clothing Australia
Business Shirts Plus is committed to offering the best range of menswear online including big men's clothing in Australia.
We have nearly 20 years of experience in selling business shirts online and we understood the need for big mens clothing and hence we brought the best range of business shirts, trousers, suits suited perfectly for big men in Australia.
Along with the business wear range, you can also buy casual big mens clothing which includes Chinos, Polo shirts and more.
We offer peace of mind, you buy online and we deliver it for free Australia wide.
Cheap Big Mens Clothing
We offer quality big men clothing at an affordable price. If you are looking for cheap clothing then buy multiple items and get up to 25% off.
We would like to ensure you get the best clothing at the right price, explore the full range, make your selection and get them delivered for free.
Cheap options are not always the best but we understand price matters, check out our clearance page and you may find a deal.
Big Mens Suits
If you are looking specifically for big mens suits then we have that too. Check out the available suits above or head to our mens suits page to choose the suit of your choice based on the available size. You can also get the matching shirts for your suit and get more discounts.
Big Mens Trousers
Get high-quality City Club and Bracks pants for formal wear or casual wear, we have a range of different styles and sizes. Choose the trouser of your choice in regular or short fittings.
Business Shirts Plus is here to help you, if you have any question related to big men's clothes then get in touch with us today!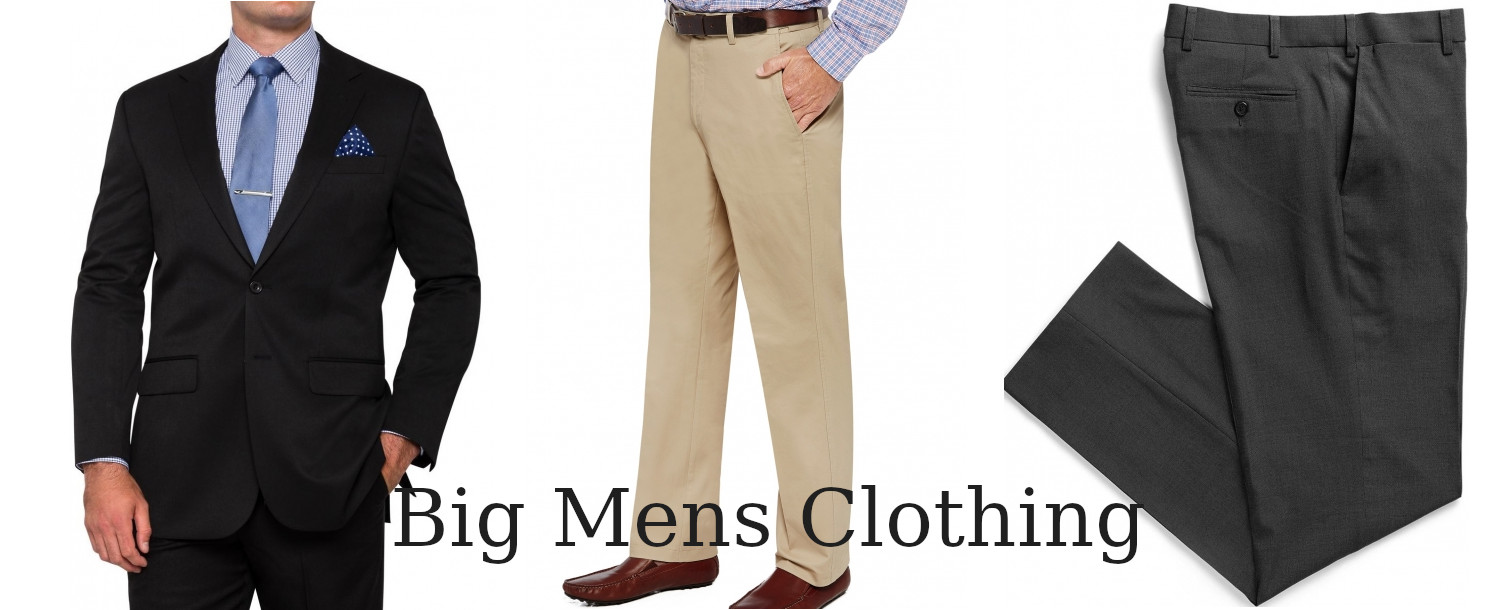 Dont worry, we have got you covered. Business Shirts Plus offers a range of large mens clothing sizes. You can buy men's business shirts, pants, suits and more.
Many customers are attracted to stores when they have clearance, as often the extra-large sizing is left behind, which can help some customers to grab products at a reasonable price. Still, you may not be getting exactly what you are looking for when buying a clearance item.
Check out our men's shirt size guide to know your size related to a specific brand and explore the range on our website and find the right matched business shirts for your needs.
Business Shirts Plus has been in business since 2002 and offers high-quality famous brand clothes to be purchased online.
Choose big men's clothing online and at your leisure, and save. You can get up to 25% discount when you purchase multiple items.
Check out our blog page where we have talked about big men's shirt ideas.
Things you should consider while choosing big men's clothes:
Make sure to check the local size guide before selecting.
Know the occasion to choose formal vs casual wear.
General knowledge of brands can be handy; some brands are well known for making big men's clothes like Van Heusen, Bracks, Gloweave and City Club.
Purchase in advance, its always good to plan and purchase the clothes for your needs. Don't leave it for the last minute.
If you need any suggestion or advice, you can always contact us, and we will be happy to help you.
Happy shopping !!!