Long Sleeve Business Shirt
If you are looking for shirts with longer sleeves then you have come the right place. The sleeve length shirt options we offer from Van Heusen and Ganton are ready-made shirts, that is there done and on the shelf ready to go! Some other brands selling online also offer variable sleeve lengths too but you pay extra to get them adjusted and there not good to go at once.
Given the vast amount of sizes which can be up to 30 fittings the choice of fabrics is more limited, however, all the best selling colours are there like white silver, blue, black, charcoal, navy, lilac in plains and very fine stripes also.
Check out extra long sleeve shirts from Van Heusen and buy as per your need.
Multiple Sleeve Length Shirts
Business Shirts Plus is the perfect place to buy multiple sleeve length shirts, and you can be confident that you will be purchasing high-quality shirts as per your sleeve length selection.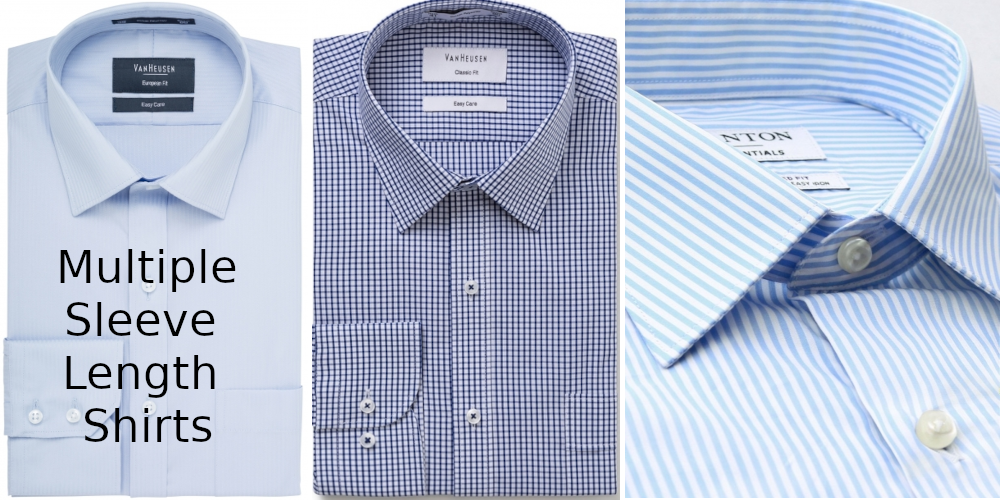 You can buy 82cm to 94cm sleeve length shirts in our online store. Currently, we have Van Heusen and Ganton shirts of multiple sleeve length.
The price range is also affordable, starting from $50 to $100+ and you can get up to 25% OFF when you buy four items.
You can buy single cuff as well as french cuff shirts in multiple sleeve length.
Van Heusen and Ganton both offer a wide variety of plain and self-pattern shirts in sleeve length options.
The fit is essential when you wear business attire; choose the suitable sleeve length shirt to fit you correctly.
If you need help in choosing the correct shirts, just email us or call us, and our customer service staff will get in touch with you to guide you to get the best shirts for your needs.
Why choose Business Shirts Plus
Our website's shirt selection is engineered and selected by a highly experienced professional who knows fine details about business shirts.
The selection developed is to help everyone. Whether you need slim fit shirts or big men's shirts, just explore the shirts you need to buy online and save.
FAQ
What is the shortest sleeve length.
A. 81cm from Ganton shirts and 82cm from Van Heusen shirts
What is the longest sleeve length.
A. 95cm from Ganton shirts and 94cm from Van Heusen shirts
How do you measure your sleeve length.
A. From the middle of the back of your neck, across to your shoulder and then down to your wrist.