Black Shirts Online
A businessman definitely needs a collection of clothes in their wardrobe. The word 'clothes' does not restrict to simple clothing but to one which the business world likes. The choices vary in tastes but the most common thing that can be seen persistent in the business world are white business shirts. Wherever you go, you will notice people wearing white shirts, but the most powerful of all is the opposite, black shirts!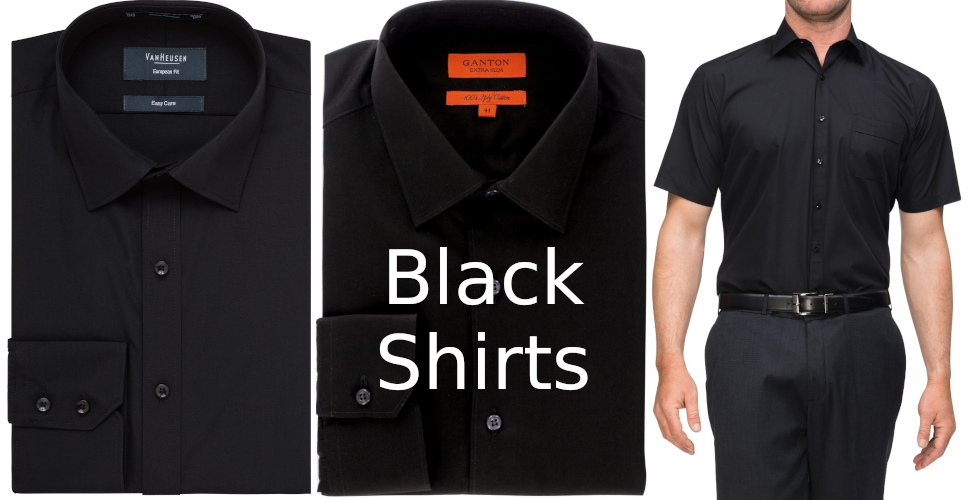 Besides, if your on this page you will agree with the fact that the black shirts are more appealing. So, if you want to make your place in the business world then you should start your journey shop online now.
We offer a wide range of business shirts to choose from. In addition, you can also have a look at trousers, shorts and other things.
Ranging from slim fit suits to classic fit business suits, our store offers everything that you need for the business space and when you have a liking for black shirts then our store will be your priority choice.
Black Long Sleeve Business Shirts
Can you describe which look in shirts you like the most? Is it with half sleeves shirts or full sleeves? You will be amazed to hear that majority of people like the latter category that is long sleeves shirt with rolled-up sleeves. This look gives "the cool guy look" and a more relaxed composure.
Do you have one such shirt? No, immediately get up and reach out to our online store to purchase one. Our store offers online services with full security to make sure that you have an amazing online experience.
Besides, the prices at our store are competitive especially with free delivery in Australia on all orders. Not only this we have a huge stock of branded shirts which will be the first choice of most people. So, if you want differently styled shirts with fresh and unique shirt designs then our men's business shirts website is best for you.
At all times we endeavour to come up with new styles in order to give you the confidence of your appearance in your workplace. Now with so much information, you don't have to think, purchase your first shirt from our store and make your first experience with us memorable.
Mens Black Shirt
Prices range from a Van Heusen Shirt at $49.95 to a Ganton Shirt for $109.95. Many business' in hospitality require black shirts and having a choice of styles and fit makes Business Shirts Plus a great place to buy the right black shirt for your business. If you need to buy black colour corporate shirts then we have range for your need.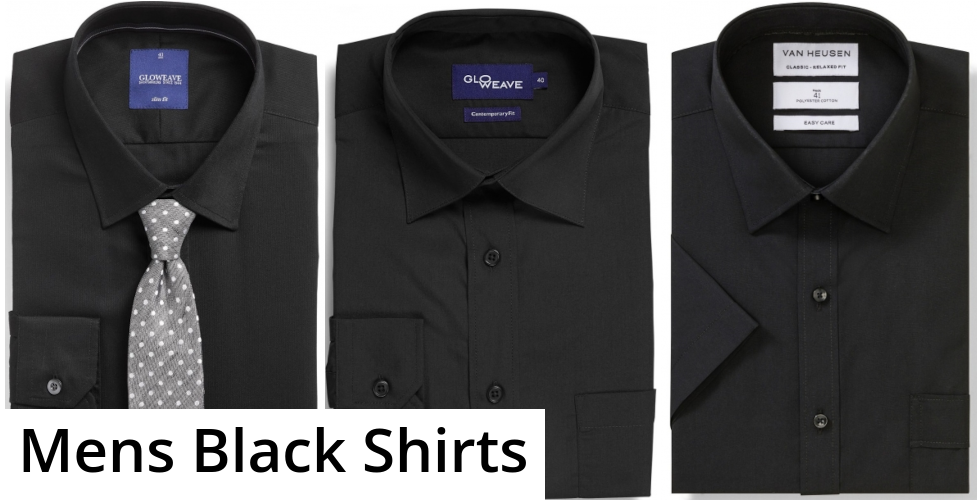 People wear black shirts for a variety of reasons, whatever the reasons may be or you just love wearing black shirts, we have the perfect black shirt collection online.
In the hospitality industry, there is a consistent demand for black business shirts. We have brought the best range of black shirts for you which includes leading brands like Van Heusen, Ganton, Gloweave, Calvin Klein.
One of the reasons the black shirt is more popular in some industry because it requires a bit less maintenance than bright colours like a white business shirt.
We have long sleeves, some with a choice of sleeve lengths as well as short sleeve black shirts online for you.
Also checkout our black womens business shirts.
If you prefer a certain mix of cotton verse's synthetic then we have considered that too, we have some shirts with 97% cotton whereas some have 40% cotton many labelled easy-care or stretch. Factors that make ease of maintenance and or less time spent ironing.
Cheap Black Shirts
We stock high-quality black business shirts but if you are looking for cheap black shirts then we would highly encourage you to check out our clearance page.
FAQ
Are black shirts warmer than other colours?
A. Scientifically speaking, yes as black absorbs heat and white reflects the suns rays. However, if you sit in the sun with 30 degree heat you will not notice the difference between a black or white shirt or, point two, 99% of your body heat will come from how active you are not the colour shirt you wear.
Can I wear a black shirt at work?
A. Yes, in this day and age there would be no problem unless your company has a specific dress code. Just don't wear a white tie with it as you don't want to be called "the gangster"
When can I wear black attire?
A. Always good to have a black suit for funerals although this is a diminishing practice. The plus for black is that it can help the with the illusion of size. A big person can seem thinner in black attire.